Reputation Management
Perfect Your
Online Reputation
Your online reputation produces a snapshot of your brand's relationship with others. This is seen before anyone gets a change to look at your website let alone experience your products or services for themselves.
Frequent 5-star reviews, engaging in social media and an active Google My Business listing all add to your online reputation and a well-executed strategy will work to solidify people's decisions to choose you over competition.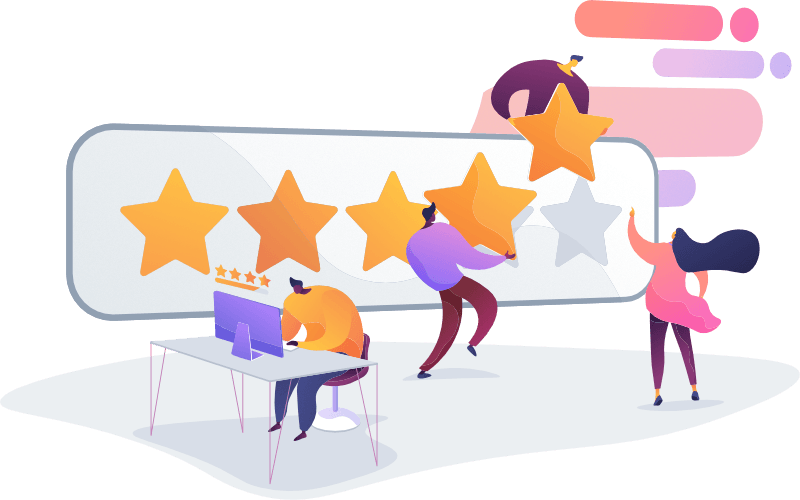 "Getting new reviews is hard"
Most of our clients KNOW they need to work on getting better reviews, but most become exhausted in asking everyone for a review only to receive a small handful. We're here to tell you – this is normal and getting good reviews is hard, but InfoStar is here to work with you and execute a complete strategy that makes getting new reviews as easy as possible.
You already know the value of growing your online reputation – the time to pull the trigger on executing a great online reputation strategy is now.
More 5-Star Reviews
Every business knows the importance of getting good reviews. Every business also knows easier said than done it is to get more good reviews. InfoStar will work with you on a strategy to deploy our review products and services that will help make it easier for you to get more 5-star reviews in outlets where they matter most such as reviews on your Google My Business listing. We also work to engage with new reviews which adds value in how your reputation is perceived online.
Less 1-Star Reviews
No one likes receiving a 1-star review on Google but when it does happen, how it's dealt with is incredibly important. Should you receive a 1-star Google review, we will work with you to generate a rational response to help combat its negative effect.
Removing Negative Google Reviews
InfoStar has successfully removed many 1-star reviews from our client's Google listings and is here to say it is possible to do the same for you should you find yourself in the crosshair of a negative review. While not always a guarantee, completely removing a negative review will bring your overall Google review score up, promote confidence in those researching your brand and ultimately assist in more business.
Engage With Reviews
Reviews are great but making sure you engage with reviews (good and bad) on all platforms is an important part of promoting your reputation. Being involved in your community shows you care about the satisfaction of your products and services.
InfoStar works hand-in-hand with you to generate the perfect response to any review thus enhancing the relationship between you and others who come across your brand.
Be Accessible
EVERYWHERE!
Your online reputation is an aggregate to how your brand is represented in many areas and as such, we work to ensure major online profiles are branded, optimized and complete giving you an online presence that supports your business. InfoStar's reputation management strategy goes beyond just having a Google profile, a Facebook account and maybe a Yelp account – depending on your business, there's plenty of other online outlets that will generate new business and being a part of those communities is an important part to your online reputation. If you're not – your competition is so the question isn't "how much more business could I get" but "how much business are you losing out on?"
Let InfoStar set-up the ultimate reputation management strategy that will work to deliver more new business.
Cohesive & Optimized
Reputation Branding
Here's a common situation:
You've hired someone new to replace an old employee. As such, you've taken the time to snap a nice photo of the new employee and have updated the website accordingly. All the while, the photos on your Google Business Listing still have old employees - not to mention a photo of you from 20 years ago.
Does this sound like your business?
IT'S A WONDERFUL Saturday - WHY NOT MAKE IT AWESOME?